Time flies; it's already been 100 days since we arrived in Singapore in mid January 2017. Each and every one of these days has included an element of learning. Learning about the culture, the area, the huge variety of asian food, how certain things work, where to find specific items, etc. I love it.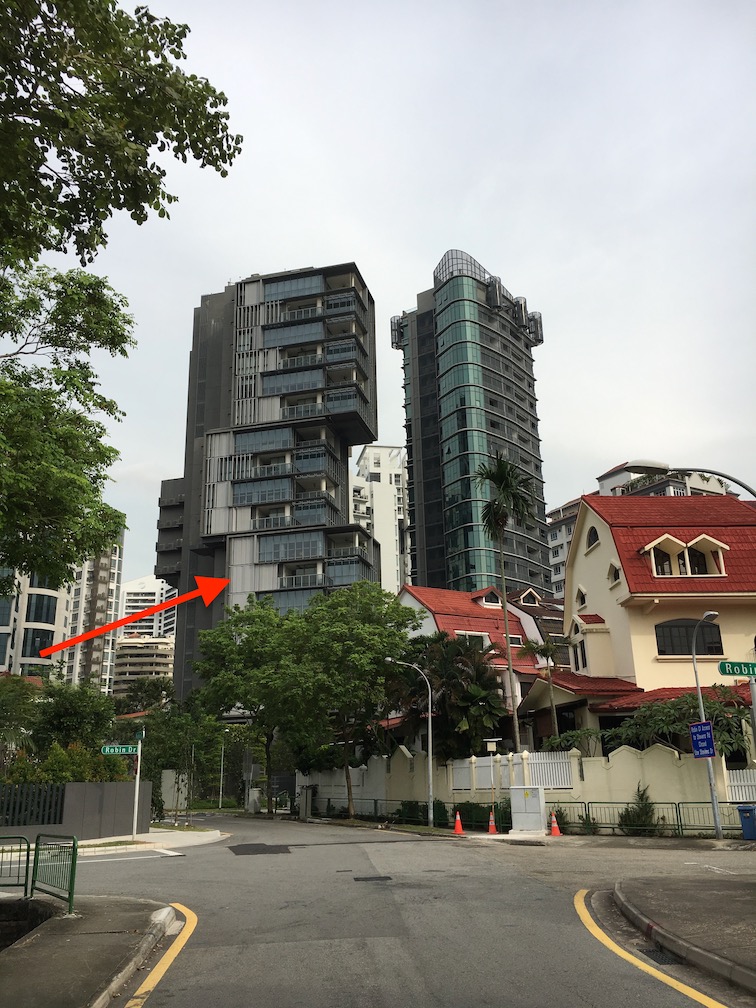 We are fortunate to have found an apartment in a well located area, close to the Singapore Botanic Gardens. We live in a 4 year old high rise on the 6th floor where we enjoy a wonderful view over the roofs of the houses in front of us and spectacular sunsets in the evenings. As we like swimming, we both appreciate our 20 m lap pool at our compound. We have the luxury of having the pool to ourselves, most of the time. This is very different to the busy situations in public swimming pools we were used to before.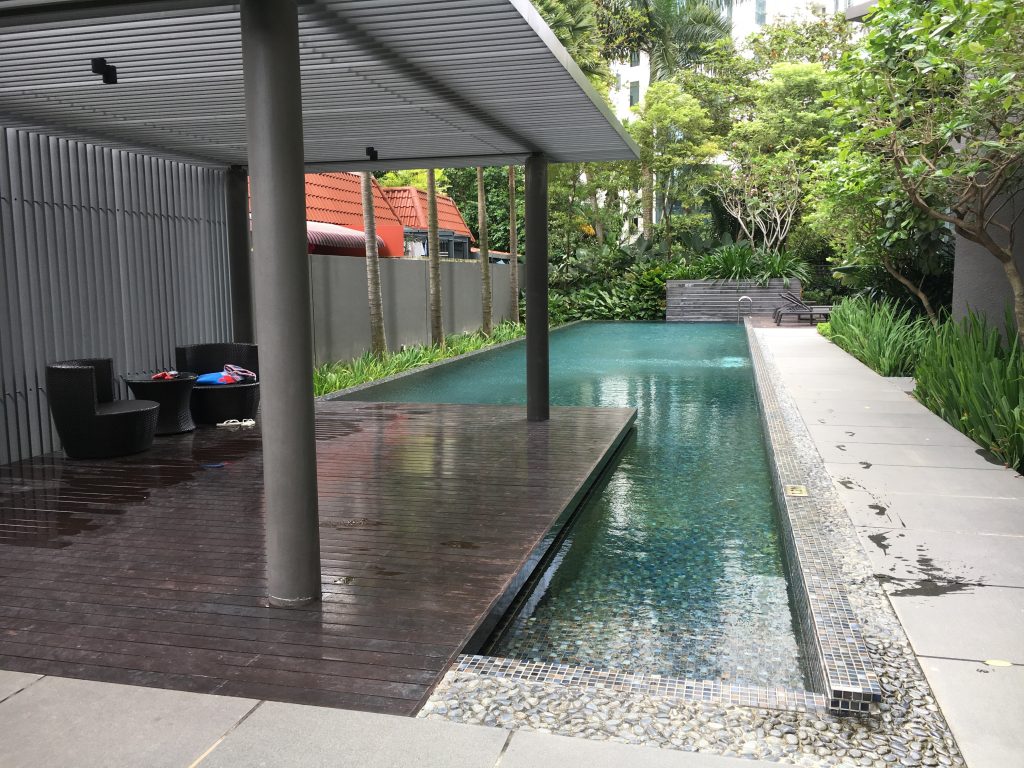 Within 10 minutes, we reach the gates of the world heritage listed Singapore Botanic Gardens. We love this proximity for jogging through the garden but also enjoy an evening walk through this calm and green area. However, it's not only the Gardens and Parks that are green here in Singapore. 50 years ago, Singapore published their vision of becoming a Garden City. This vision has been well implemented. Everywhere you go in Singapore it is green; you find trees, bushes, nice plants, etc. Even bridges or walls are covered with plants and everything is well maintained. I often have the feeling that I walk through a giant garden…
Proximity to public transport is great for us. It takes me 4 minutes to walk from our block to the MRT station that brings me directly to the office within 13 minutes. Alternatively, there are two bus stops within a few minutes walking distance that bring us to Orchard road in a few minutes. Otherwise, taxis are on a very affordable. However, public taxi drivers often drive a special way in constantly accelerating, rolling, accelerating, rolling, etc, in the hope to use less petrol. Even if it saves a bit, one could easily get car-sick. That's why I use Grab, whenever I can. Grab is a Singapore based startup with presence in South-East Asia running the same concept as Uber. I had a better experience with them. – Importing my car from Switzerland was not an option. Import taxes for vehicles in Singapore is 40%. Licence plates must be requested through an auction system. Such a COE (Certificate of Entitlement) currently costs more than 35'000 US$ and entitles you to drive your car for up to 10 years. This is how they encourage people to think twice about investing in a car in Singapore. In return, public transport is affordable with a good network and taxis are inexpensive.
The demand of taxis here in Singapore change quickly. As soon as it starts to rain, waiting times and prices for taxis increase immediately. Living in a tropical area (located 1° above the aequator), we have rain almost every day. Usually, this is a matter of 15-30 Minutes,  short but heavy. – The day after we moved into our apartment, it rained in the morning. Being Swiss, I was used to wearing a raincoat in these conditions. Walking well protected to the MRT was ok, although the humidity didn't make it too comfortable with an air tight raincoat. As I entered the station, I realised that the locals either carried a small umbrella or they just ran from the bus stop to the nearby building. I quickly realised, that I was the big exception wearing a rain coat. This was a immediate learning to me, that a raincoat is not required in Singapore. However, it is a good advise to always carry a small umbrella in your bag.
My office is located at the Marina Bay Financial Centre, one of the tallest towers in Singapore. During business times, this is a very busy area. I am fortunate, that my MRT station stops directly under my building. It takes me only 2 minutes from the MRT station to the 43rd floor with has a spectacular view to the Opera, the sea, as well as to the iconic Marina Bay Sands hotel.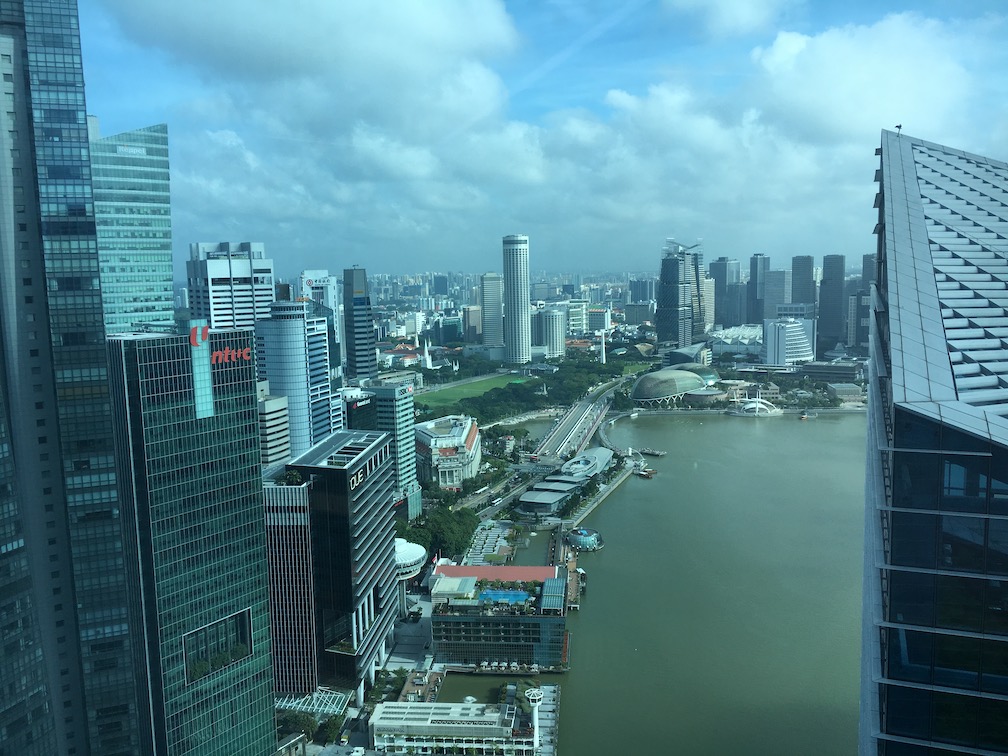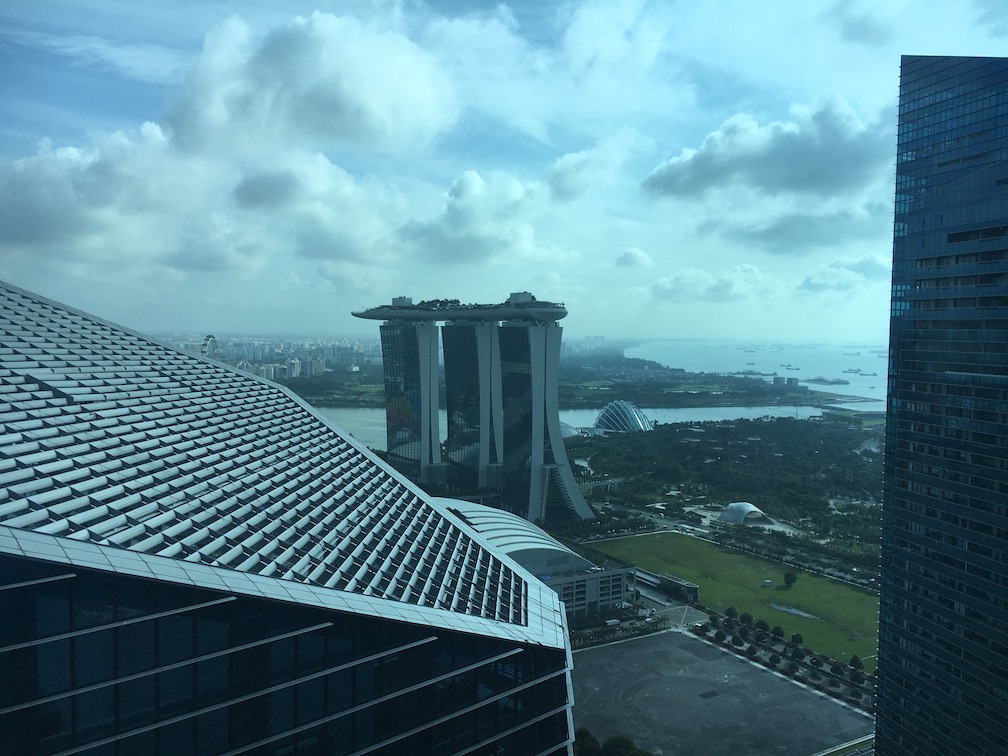 Apart from the rain, sunshine, heat and humidity are present every day. I am slowly adapting to the humidity. However, it is hardest in the morning when the humidity is usually at it's highest and I have to walk from my apartment to the MRT Station… From there, many places like MRT stations, offices and shops are all air-conditioned. The same goes for the MRT, buses and taxis. Sometimes too cold, so that I find myself looking forward to escaping into warmer areas…
Recently, we discovered a market, not far away from where we live. In Singapore, markets are usually split into two sections: In the dry market, you find fruits and vegetables while in the wet market, meat and fish are sold. The floors in this section are regularly cleaned with water, hence the name "wet market". I love the variety of the fruits sold at these markets. They offer different types of mangoes, a variety of bananas, pineapples, papaya, longans, durians, coconuts, rambutans, etc. all from south east asia. As a European, I still consider these as exotic fruits. But living in Singapore this is now the other way around. Here, the exotic items are Parma ham, Mozzarella, Feta cheese, etc. So, it is all a matter of perspective… – Next to the market, there usually is a hawker centre where you find food stalls offering a huge variety of options (Chinese, Thai, Indian, etc.) in good quality at affordable prices.
There are 4 official languages in Singapore (English, Malay, Chinese and Tamil). During my first weeks, I had to get used to understanding the locals. English is most commonly used. However, the asian infused dialect is fairly different to British, Australian or American english. On top of this, there is also a local variation called Singlish. If someone says "Can", this simply means "Yes, I can". There is no further elaboration of what the person is referring to. And the contrary is simply "Can not". Another example is if someone says that they are "going marketing" it simply means they are going shopping! It takes a bit of getting used to Singlish but the more you hear it the more it makes sense, and you start applying it as well.
I will be sharing more about my experiences in Singapore. So stay tuned!
Markus